Playlist Swap with Sam @Bookshire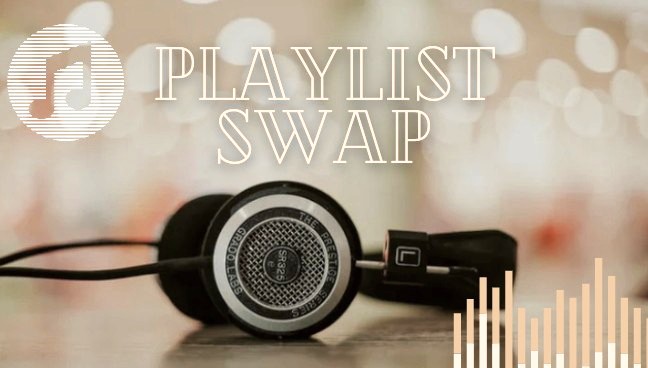 Hiya wonderful people! I'm a bit late to publish this, but at least it's not 11:59. Ahem.
Anyways, I reached out to Sam from Sam @Bookshire, asking if she'd like to swap playlists, and she said yes!!! (Moral of the story: be brave. Pretend to be an extravert and go out on a limb. Good things may come of it.)
We came up with 21 categories, because it's 2021, and swapped playlists. So I'll be listening and commenting on her songs, and she'll be doing the same thing to mine. Her post is up already, because she's a better person than I, so be sure to check it out here: Link!
Onto the music!
---
1. A song that you can't help but sing along with:
Show Yourself – Frozen 2.
Honestly, I've only seen Frozen 2 once (you may remember my review of it here). But this song reveals so much about Elsa and how far she's come. She (Idina Menzel) has such an unique voice and I gotta love that vibrato.
"I've always been a fortress/cold secrets deep inside." "All my life I've been torn." Cough. Quite.
The piano backing is lovely and simplistic. Overall, it's very nice.
2. A cover:
Pompeii – The Yale Spizzwinks
I don't think I have ever heard the original?? But I LOVE this. It's bouncy and fun, and is music for dancing in the kitchen while making brownies. Yes, this makes me very happy. Talk about songs as books, I want to write this. (#writerslife). My favorite part, possibly just because of the rhythm/melody, is "how can I be an optimist about this?" Love that.
3. Favorite love song:
For Love Of You – Audrey Assad
I'm getting strong Dido/Plumb vibes from this, and I love it. The lyrics are really pretty too.
Realizes that I could've put down Whispers In The Dark (Skillet). Oh well.
I don't have much to say about this one, just that I love it.
4. A song with a color or number in the title:
One Day More – Welsh of The West End
I'm getting Phantom of the Opera vibes, probably because that's the only non-Disney musical I've really listened to.
I've never watched/listened to Les Mis, but this is delightful. There's merging storylines (I think), I have no idea what's going on – other than the French Revolution?? But all the vocals are amazing.
5. A recent discovery:
Lead Kindly Light – Audrey Assad
😍 The instrumental parts! *Swoons* Her voice is lovely, I really like the deeper undertones to it. I'll definitely be listening to more of her music.
"My eyes could see but my heart was blind." Love this. 💯
6. Favorite comedic song:
A Complicated Song – Weird Al
Ironically, we both picked Weird Al song for this. 😁. And hey! I actually know the original!
🤣🤣🤣 This song had me dying laughing. And it just gets better as it goes on. About the "related" part, I jot down "oh no", which basically sums it all up. I love this. It's too much.
7. Least favorite song from your favorite group/artist:
Just As I Am – Andrew Peterson
Again, I don't have much to say. I kind of have mixed feelings about his music.
There's a couple notes in here that are whiney/way too high, but those lyrics though…😍. I love them.
8. Favorite Christmas song: What Child Is This – Una Voice Miami
I'm kinda iffy about choirs, but I think that it fits the majesty of this song. The words in the second verse are different than I've ever heard it, but it's not bad. I love this Christmas song too!
9. Favorite Easter song:
Jesus Christ Is Risen Today– various
Jinx! Apparently, this is a popular hymn.😏
Somehow, there's something soothing and exhilarating about this song, and the instrumental bridge is lovely. Again, I don't really like choirs (I don't know why), but it doesn't bug me with this, mostly because I'm used to singing it in church.
10. Favorite hymn:
O God Beyond All Praising – OCP Session Choir
I've never heard this one before. I'm not terribly fond of the vocals, but the words are good. The message is in similar vein as For Love Of You. My eyes just glaze over a bit, I don't know why.
11. Favorite a cappella song:
Some Nights/We Are Young – Straight No Chaser
The beginning of this is a bit…odd. I love the lyrics, however, and the overall vibe. I'm not sure how I feel about the beat-boxing type background, I think it would sound better with an instrumental backing that would defeat the whole purpose of the category.
12. Favorite country song:
Landslide – The Gardiner Sisters
There's something simplistically beautiful about this, and has that classic country sound. It's sad (it is a break-up song after all) but lovely. "Snow covered hills". 😍. I really like it.
13. A song that's weird but you love for some reason:
Dynamite – One Voice Children's Choir
I was a bit skeptical of this one, mostly because a lot of kids' choirs have little talent, they're just cute. These kids can actually sing! I'm a Grinch, I know.
BTS is everywhere, it seems, but I kinda get why. This is incredibly catchy!
14. Favorite rock song:
The Last Stand – SABATON
This was… interesting. The introduction was awesome (I adore rock, btw), and I liked the deepness oh his voice. However, I'm not a huge fan of the melody – it didn't have much emotion. And I had to look up the history behind it, because I had no idea what it was about. (check out this article: link).
15. A song that inspires you:
For Good – Tom Heir and Steffan Hughes
Ooh, another song from a musical! This is my first time listening to anything from Wicked. "Like a hand print on my heart." – That's poetic. Both of those singers are amazing! ❤️. It really shows how good friendships change you – for good.
16. Favorite instrumental:
Hello/Lacrimosa– The Piano Guys
The Piano Guys!!! It starts out so dramatic, and I love it already. The two songs blend together so well. The mood is perfect.
17. Song that you wish was a book:
Brothers In Arms – Home Free
Those vocals! The first one caught me by surprise, I wasn't expecting that. It's so sad, and I'm not really into military-type stories, but somehow I want this book too!
18. Favorite sad song:
It's Quiet Uptown – Hamilton
😭 I'm not crying, you are. I hurt for them. Thanks to a friend, I've heard quite a few Hamilton songs, but I haven't heard this one yet. "Forgiveness, can you imagine?" Lovely and tragic.
19. Song that you find yourself singing randomly while doing other things:
My Love Has Gone Across The Sea – Skye Peterson with Andrew Peterson
I'm getting Hobbit vibes from it. ❤️. I adore this, and story ideas! It's a simple song about a girl who's love has gone across the sea. I love how she says that if he can't come back, she'll come to him. Man, I'm emotional, this has me tearing up a little.
20. A song that made you tear up:
Apparently, the last two.
The Rain Keeps Falling – Andrew Peterson
I think I heard this once… Anyways, with the depression, self-doubt, struggles with God, and feeling alone, it's definitely relatable and sad. I can see how it made you tear up. I must have used up all my tears on the last two songs… "Dying to live but learning to wait". Love that.
21. Favorite song from a musical:
Tightrope – The Greatest Showman
I love this!!! The imagery is stunning, and her voice is amazing. In a way, it's an adorable love song about trust and daring. ❤️. Wonderful.
---
Overall, I really loved it! My apologies for being so late 🤪. I'll work on it.
What have y'all been listening to? Anyone up for a playlist swap? Favorite Christmas song? As always, feel free to comment below!
Until next time,
Rebekkah W.