Playlist Swap and Interview with Autumn Nicole, Aspiring Author
Heya gorgeous people! Today we have a special post: I've colabed with Autumn Nicole from I Believe Even When to do a playlist swap and interviews! I'll be interviewing her about writing, with a couple of fun random questions mixed in, then I'll be listening to ten of her favorite songs and giving my thoughts on them.
After you've read this post, you can hop over to Autumn's blog to read the interview she did with me, as well as her thoughts on my songs. (If you came over here from there, hello and welcome!)
The Interview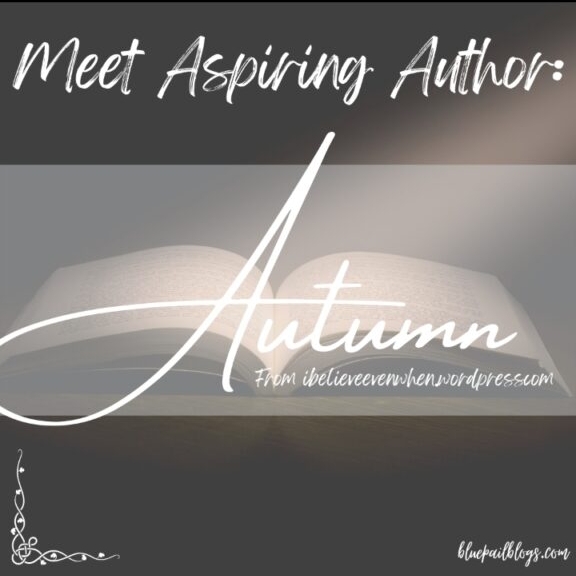 Hello and welcome to the Blue Pail, Autumn! Let's get the interview started! What is your favorite type of day?
– Oh this is hard! While I love vacation days where I can sit and read all day, I also love those days where I get stuff done. So here's an ideal day. I wake up early – the sun is shining, the air is refreshing and crisp, a breeze is blowing. I get all my work done in the morning and all day the temp is perfect – 70 with sun and a cool breeze. No flaws in my work, it all gets done in good time and then when my to-do list is complete I can sit outside and enjoy God's beautiful world, maybe read, maybe write, maybe play with puppies, just chill!
That sounds beautiful and relaxing! 😍. Next, if you were to marry a fictional character, who would you choose?
-Ack, this is a big decision and must be weighed carefully. Without a doubt, Jigson from The Baker Family Adventures. 😊
*Makes a mental note to look into The Baker Family Adventures* What is your go-to comfort movie (or book, if you're more of a reader)?
-Unashamedly, I will always be comforted and cheered up by a good ole VeggieTales movie 😁
No judgement! Veggie Tales are the best! Now, what is your favorite beverage – hot and cold?
-I love water! But besides that, hot tea is always soothing to me, and for the summer time, ice-cold meadow tea always hits the spot.
I also love water (and tea)! If you got to have dinner with three people, living or dead, who would you choose?
-Only three!?! Jesus, Queen Esther, and Corrie ten Boom
Girl! Those three are epic! I would love to have dinner with any one of them!
Let's move on to the writing-related questions: where do you get inspiration to write?
-Lots of places really – but songs inspire me alot, as do quotes, verses, random things my siblings say, etc!
I get that! So, do you have any published works (if not, tell us about your WIP)?
-I do not have any published works yet. My WIP is a Christian allegory set in the fantasy genre. It's gone through several drafts in the past few months and I feel wholly inadequate to write this story how it should be. Imposter syndrome is real, folks. But I believe God gave me this idea and I pray He will enable me to bring this book to completion.
I whole heartedly second that! What's your favorite – and least favorite – genre?
-My favorite genre would be exactly what I'm writing. Christian fantasy with a strong allegorical message. Least favorite would be romance.
I also love Christian fantasy! Paper and pen or laptop?
Laptop! My wrist aches just thinking about handwriting all my stories!
Yeah, writing by hand be a real pain (I still love it, though)! Lastly, which three authors would you like to be mentored by?
– C.S. Lewis, Chuck Black and Paul McCusker
Ooh! I don't really know the other two writers, but being mentored by C.S. Lewis would be amazing! Thank you so much for letting me interview you – it's been a blast! Now, on to the music!
---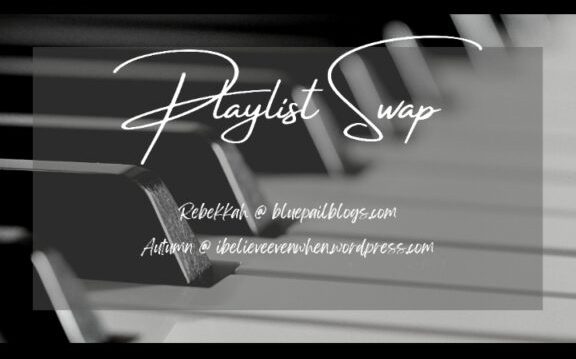 The Playlist Swap
Alrighty! Autumn gave me a list of ten of her favorite songs, which I will listen to (some of them 2-3 times), and give my thoughts on. ..
Wrap This One Up – Christy Nockles ||YouTube
That voice! ❤️. I appreciate the ties to Passover and the "Gloria in exelsies Deo." It has a lot of depth to it. And can we also marvel at the fact that it's over six minutes long, in a world of one and two minute songs? However, it tells a lot, rather than showing, and I'm not a huge fan of the title/chorus line, as weird as that sounds.
Have It All (Official Lyric Video) – Brian Johnson |- YouTube
"Oh the peace that comes | when I'm broken and undone."
I wasn't a huge fan (but by no means a hater) of this song. It gives off similar vibes as the hymn Take My Life and Let It Be. It just seems really repetitive, and all modern worship songs are starting to sound the same. However, the video is awesome!
Your Great Name – Natalie Grant | YouTube
I've actually heard this one before! I wouldn't peg it as a favorite, but I don't mind it.
Restless – Audrey Assad | YouTube
Another Audrey Assad! I discovered her music in a previous playist swap and fell in love with it. I feel this song so, so hard. Except for me, it tends to be more like 'I feel fake until I rest in the reality of Him,' although I do have my restless days.
Casting Crowns – Anything But Easy (Official Lyric Video) – YouTube
Dude, that graphic design is amazing. ❤️. Ahem. I didn't ask to be called out like this *sinks deeper into beanbag.*
"I can't paint your prison walls a brighter color | and never tell of the one who set me free."
Love truly is anything but easy. As a side note, Casting Crowns has yet to disappoint me.
I Wont Let You Go – Official Lyric Video – YouTube
Did I ask to be so shattered? (The answer is no, no I didn't). This is by far my favorite song on this playlist. It reminds me of I Will Leave A Light On by Tom Walker, only Christian and from God's perspective. It's the song of a pleading lover, a heartbroken father… I love it.
Fires (Official Music Video) – Jordan St. Cyr – YouTube
I absolutely adore this music video: it's a work of art, and inspires story ideas. The end especially is so, so lovely. The song is alright, it has a good message and all, and it grows on me a bit each time I listen to it.
Leanna Crawford – Fragile Heart (Lyric Video) – YouTube
She has such a beautiful voice! It's a fairly simple song, but it suits the theme: being deeply hurt and coming to Jesus.
Audiomachine – Breath and Life – YouTube
Wow. Simply wow. This would be incredible music to write to (in fact, I added it to the playlist for my WIP). My only question is why is it so short? 😭. Oh, nevermind, there's an extended version. It's got really cool sci-fi/angelic vibes.
Adam's Speech (Score/Closing Credits) – YouTube
For the first third or so, this song has soft, reunion-type feels, before transitioning into *big dramatic music* (for battles and conquering heroes). I don't like it quite as much as Breath and Life, I'm not quite sure if I would write to it – but it's a good one to have on hand, just in case.
---
Well, that's all folks! We have come to the conclusion of the post. I would like to thank Autumn Nicole for letting me interview her and agreeing to a playlist swap – despite our different tastes in music, it was really fun! Y'all should go check out her blog!
What have you been listening to? Do you have any writing projects going on? As always, don't be afraid to comment.