Creating Playlists for Your WIPs: Guest Post by Allyson Jamison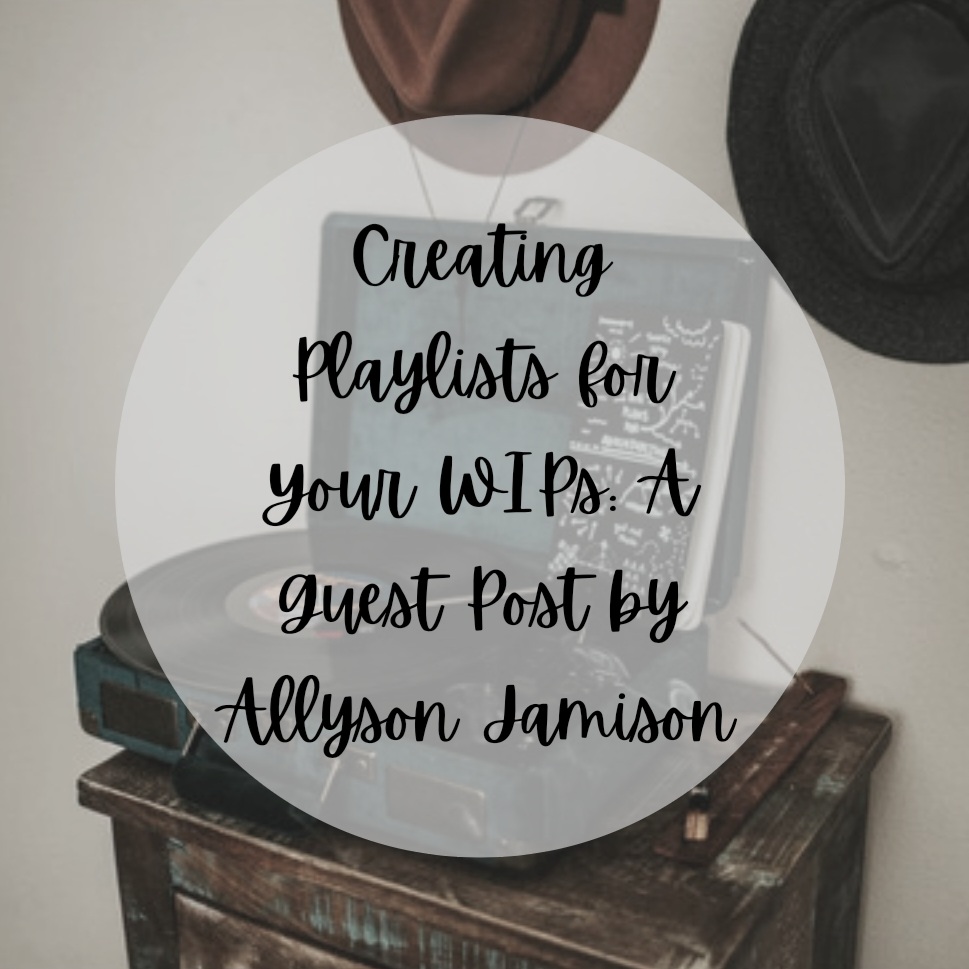 Ello lovelies! Today, I have the great pleasure to welcome Allyson Jamison to The Blue Pail! We've decided to swap guest posts, and she wrote a wonderful article on creating playlists for your WIPs (work-in-progress). I wrote an article on my top 5 favorite tropes, which you can read on her blog on Monday.
---
Creating Playlists For Your WIPs
When we sit down to write, we want to immerse ourselves into the story we're creating. There are many ways to do this, and something different may work for each individual, but today I want to talk about music. *happy sigh*
Music is food for the soul and nourishment for the creative's mind. Music can take us places we otherwise couldn't go. It can relax or rejuvenate us, inspire or motivate, and bring peace to our sometimes hectic mind.
Music is my favorite way of blocking out the real world to escape into the story I'm creating. There's nothing quite like it.
This is something I love to do for each story that I write, and it's not as hard as you may think. The first step is to think about what the vibe of your story is. For example, mine has a foggy/rainy day feel with a depressing yet hopeful tone and it's set in London.
The first thing I did with this information was go to YouTube and type in "London Ambience". By adding the word "ambient" or "ambience" to any feel or tone you want will immediately give you what you're looking for. For me, I found a two hour video of "London fog". The sound of misty rain is so inspirational for the feel of my story!
My WIP is also inspired by Sherlock Holmes so I searched "Sherlock Holmes ambient". I was rewarded with all sorts of dark academia and mystery type videos! The tone was perfect.
But you don't always have to use ambient type videos. Perhaps you like to listen to more instrumental songs while writing. This is what I like a lot of times as well. For this, you can simply type in instrumental music or perhaps a certain song. I'm currently loving the instrumental version of "Someone You Loved" by Lewis Capaldi, played by The Piano Guys.
From there you can find artists you enjoy and return to them again and again. I'm a huge fan of The Piano Guy's music and listen to a lot of that while writing. People like Abbie Emmons also have some amazing playlists you can check out and listen to for free. And if classical music is your style, there's more than enough of that on YouTube or whatever platform you're using.
In the end, creating a playlist tailored specifically for your WIP is not that hard and fun to do. Each day you can pick a new song to listen to or go through them all each day. Save all the songs you find and enjoy to a playlist for you WIP so that whenever you go to write it, all you have to do is turn on the playlist and soak in your story.
Immerse yourself. Truly feel your story and get into it as you write. There's no better way to do that than listening to music centered around your story's vibe.
What is the vibe of your WIP? What is something you can type into YouTube to find what you're looking for? Do you enjoy making playlists for your WIP's?
---
Bio
Allyson Jamison is a quirky young writer with a passion to serve Christ in all that she does. Writing is her way of bringing light into a dark world and spreading hope through the written word. In her spare time, you can find her reading her pocket-sized thesaurus, playing friendly pranks on unsuspecting family members, or writing her next great novel. Always with a cup of tea.
She blogs at https://allysonjamison.wordpress.com/, but if you want to see a peek behind the scenes of the writer, sign up for her email list.