Immanuel Has Come: A Holy Week Bible Study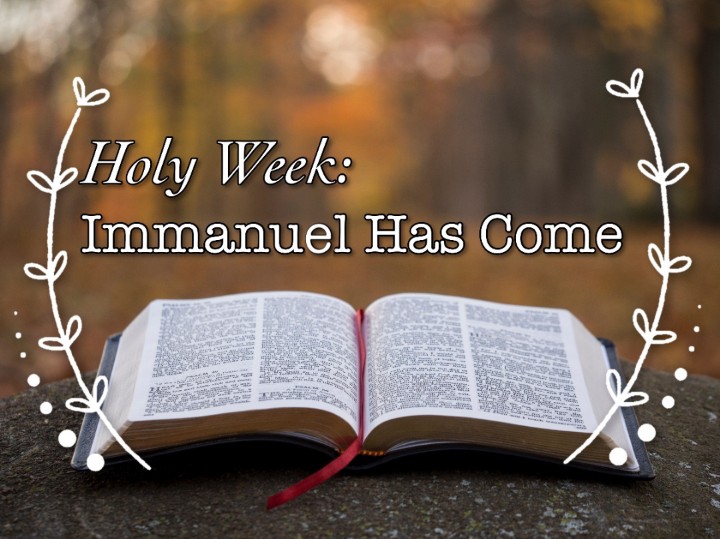 I've always liked Lent, mournful as it is. In a way, it reminds me of a second Advent.
Throughout both seasons, we mourn our exile and our separation from the Lord of life, yet our mourning is touched with hope, because we know that Immanuel has come to redeem His people. (O Come, O Come Immanuel could almost be a Lenten hymn). The difference is that in Advent we look forward to His coming, and in Lent we look to His death.
In this season we see how broken we are and how much we need healing and saving. And we see the child born on Christmas headed to the cross to heal and save us.
I've prepared a Bible study for this last week of Lent, when we really zero in on the passion of Christ, our Immanuel.
The readings for Palm Sunday, Maundy Thursday, Good Friday, and Easter all center around the events of that particular day. The other days focus on things such as the bronze snake, the prophecies in Isaiah, and the Messianic psalms.
There is also a hymn for each day, except for Saturday, which is traditionally silent.
Palm Sunday
Luke 19:28-48
Zechariah 9:8-12
John 12:1-19
Isaiah 30:15-19
Hymn: Hosanna Loud Hosanna
Monday
Genesis 3
Isaiah 59:2
Romans 3:9-20
Isaiah 7:14
Hymn: What Wonderous Love Is This?
Tuesday
Numbers 21:4-9
John 3:14-17, 12:27-33
Hymn: Let All Mortal Flesh Keep Silence
Wednesday
Isaiah 52:13 – 53:12, 42:1-9
Hymn: Striken, Smitten, And Afflicted
Maundy Thursday
John 13:1-17
Luke 22:1-65
Psalm 41:9
Hymn: Man Of Sorrows
Good Friday
John 18:1-19
Matthew 27:1-26
Luke 22:66 – 23:56
Matthew 27:62-66
Hymn: Were You There?
Saturday
Psalm 89
Psalm 22
Easter Sunday
Matthew 28:1-15
Luke 24:1-49
Zephaniah 3:14-20
John 20
Hymn: Christ The Lord Is Risen Today
I hope you enjoy this Bible study, and that your faith will be strengthened. May God bless your Lenten and Easter season!